19" sub-rack containers and drawers. Our development department works closely with the customers' technical offices and designs new solutions every day capable of fulfilling the wishes of the most demanding customer.

Shelves, shelves and rack trays, fixed or extractable support bases on telescopic rails, with 2 or 4 fixing points, with blind or slotted top, for light or heavy loads. brackets, profiles and 19" rack uprights, galvanized plates, bars and rings for cable management.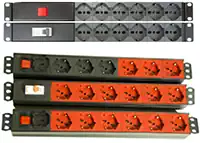 Multi-socket power bars: Optimizing space inside a cabinet is essential. fundamental, to be able to have the greatest number of tricks, the most; versatile as possible and occupying the least space are crucial aspects in all applications. For these reasons we produce power bars with different combinations of sockets, 16A or 32A wiring, magneto-thermal and differential switches, safety systems, colored sockets.

Blind or ventilated panels, blind and ventilated front panels with slots, vents, patterned milling. 19" panels for XLR, Keystone, RCA, fiber optic connectors, electrical sockets and other electronics.

Feet, wheels, brackets, eyebolts, shock absorbers: Pivoting wheels with or without brake in steel and rubber, eyebolts with threaded pin or bracket, pin feet in steel and rubber, for metal cabinets and containers.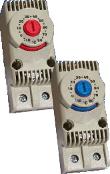 Ventilation, heating, air conditioning: We have a large catalog of fans, cooling kits, air extraction towers, anti-dust filters, anti-condensation heaters, air conditioners and accessories for the combined management of the climate inside the cabinets.